Arizona Bicycle Accident Lawyers
Over the past decade, bicycling has become increasingly popular for recreation, exercise, and to reduce one's carbon footprint on the environment. As a result, the number of bicycling-related injuries and deaths has also risen, and Arizona is ranked among the top five most dangerous states for cyclists.
It is legal for bicycles to ride in traffic lanes in Arizona. There are laws that cyclists must follow; however, many motorists do not know how to share the road. When accidents involving motor vehicles and bicycles occur, injuries to the cyclist are often severe, debilitating, and even fatal. If the accident occurred due to the negligence of someone else, the cyclist, or family members in the case of a fatality, may be eligible for compensation.
While the actions of motorists are the leading cause of injury to cyclists, there are other dangers that can lead to accidents, including:
Defective bicycles or parts
Road hazards, such as potholes, uneven pavement, and loose gravel
Hidden or unanticipated obstructions
Poor weather conditions
Other cyclists
Pedestrians
Dog attacks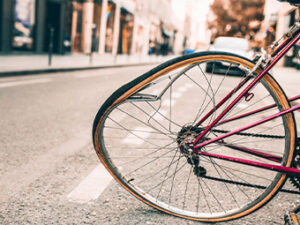 Immediately after an accident, seek medical attention. Even if there are only visible cuts and bruises, there could be other injuries that become apparent over time. It is important to be checked out by a doctor, not only for your health and well-being but as evidence should you file a claim. You will need documentation of your injuries should you decide to pursue damages from the negligent party. You will also need a police report and statements from witnesses, if possible.
After you have received medical care, your next step should be to hire an experienced bicycle accident attorney. Fite Law Group provides free case evaluations and works on contingency, meaning we only get paid when we win your case and you receive compensation. We will help you through every step of the process, taking on the brunt of the burden to prove your case so you can focus on healing.
Contact Our Arizona Bicycle Accident Attorneys
If you are a cyclist that has been involved in an accident with a motor vehicle in Arizona, or due to another party's negligence, call our Arizona bicycle accident lawyers at (602) 368-1869 for a free evaluation of your case. Hate talking on the phone? Text us at 480.688.7544 to set up a virtual appointment.
Resources:
Arizona Bicycle Laws (Excerpts)
How Can We Help You?
Provide the info below,or call us