Arizona Dog Bite Lawyers
Dogs may be touted as "man's best friend," but the fact is that they are animals with natural born instincts. While some breeds may be viewed as more vicious than others, even the cutest and cuddliest of pups may bite. In fact, dog bites are quite common, and more likely than not, the victim will be bitten by a dog he or she knows. Roughly 50 percent of the 4.5 million Americans bitten each year are children between the ages of 5 and 9.
Few experiences are as traumatic as being attacked by a dog. Some injuries are so severe, they result in death. Families of those who die from fatal injuries experience pain, suffering, and financial burdens. Survivors of attacks may have physical disfigurements, permanent nerve damage, and emotional scars.  They may also be left with a large stack of medical bills.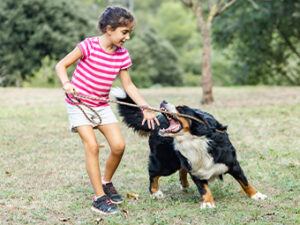 In Arizona, dog owners are responsible for all the above regardless of whether they know their dog is aggressive or has a history of biting. The law of "strict liability" says that the owner does not need to be negligent for you to recover damages.
It is quite clear: Dog Bite = Owner Responsible. Arizona Revised Statutes §11-1025 contains the laws that apply to dog bites that occur in Arizona.
There are several steps you need to take after a dog bite in Arizona.
Report the bite to authorities
Seek medical care
Preserve evidence
Hire an Arizona dog bite attorney
There are many reasons to call an attorney after you have been bitten by a dog. The most obvious is that an attorney can help you navigate the tricky terrain of making a claim against the owner's insurance and help ensure you receive compensation for the injuries and damages resulting from the attack. Follow the steps above and let your attorney help determine whether your experience warrants a lawsuit.
A less obvious reason to hire an attorney is that most people who are bitten by a dog know the owner. It could be a family member or a neighbor, but it is likely that you will have interactions with that person in the future. An attorney can be a protective layer between you and the dog's owner, allowing you to preserve your relationship. Your attorney can be the "bad guy," working on your behalf to request insurance and other information pertinent to your case.
Reasons To Retain An Arizona Dog Bite Attorney
Fite Law Group will work with you to collect the evidence, open a claim with the insurance company, collect medical records, gather proof for a lost wage claim, and negotiate with insurance and medical providers to make a strong case and ensure you are compensated.
Fite Law Group will also ensure that your claim is made timely. Dog bite victims have just ONE year to file a lawsuit to get the protections of the strict liability laws in Arizona. After that, damages must be pursued under the less desirable general negligence laws. These laws put the burden of proving negligence on the victim and it is much more challenging to fully receive the compensation deserved, especially after a significant amount of time has passed..
The attorneys and staff at Fite Law Group have extensive experience handling dog bite claims. We are dog owners, and dog lovers, and believe in responsible dog ownership. It may not seem like dog owners are "at fault" for their pet's attack; however, the law sees things differently and that is why we have insurance – to protect others and ourselves in the event something bad happens.
No case is too difficult for the Fite Law team. For example, we handled a case involving a client who was bitten by a neighbor's dog. The attack left her with a terrible scar and nerve damage. A tricky aspect of this case was that the neighbor moved before the client hired us. Through sheer determination, we tracked down the dog owner, who insisted there was no insurance. We proved that to be false and were able to get our client the damages she deserved.
Fite Law Group offers free consultations. To discuss your case, please call our Arizona dog bite lawyers at (602) 368-1869. Hate talking on the phone? Text us at 480.688.7544 to set up a virtual appointment.
How Can We Help You?
Provide the info below,or call us